With its easy-to-use interface, Pentax K-x is designed to entice compact camera users into DSLR ownership. It is considered by many to be one of the best DSLR available in the market despite its compact size and use of AA batteries.
In terms of physical characteristics, this Pentax K-x weighs 515g which is 10g lighter than its predecessor, the K-m. But what's the same is that it also has a Pentamirror with a coverage of 96% and a magnification of 0.85. Its AE is also similar of having 16 segments. But there are a lot of characteristics and features that have been improved and added.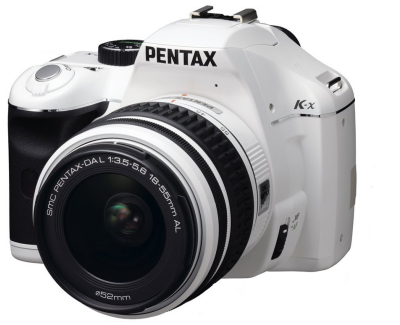 The Pentax K-x has an 11-point AF system and PRIME II imaging engine; what's more is that it has abilities to correct for chromatic aberration and distortion when using its DA and DFA lenses. K-x enables you also to select the active AF-point and offers you an orientation sensor.
Based around a 12.4 megapixel CMOS sensor with onboard A/D conversion, Pentax K-x's output is fast for the camera to shoot at 4.7 frames per second. Moreover, it's also great that with it, the camera can also capture 24 frames of 720p HD video per second. That's not all, the camera also comes with a higher ISOs of up to 6400 and expandable up to 12800. Its shutter mechanism is also revised from its version of K-m wherein the mechanism allows high continuous shooting speed with a maximum shutter speed of up to 1/6000 sec.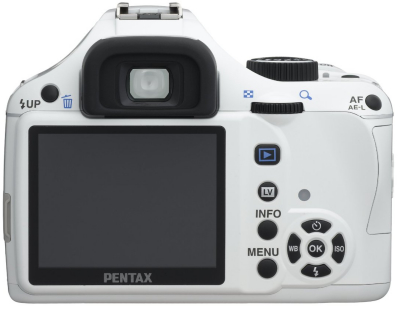 The camera also features a new 'cross-processing' mode on top of an already impressive range of filters and processing options. With its easy-to-use interface, Pentax K-x is designed to entice compact camera users into DSLR ownership.
Features:
4 megapixel APS-C-format CMOS sensor (total pixels: 12.9 million)
PRIME II imaging engine
1/6000th maximum shutter speed
720p HD video (24 fps)
7″ LCD monitor (230,000 dots)
Image sensor cleaning (sensor shake)
11 selectable AF points
IS0 200-6400 range (100-12,800 when expanded)
7 frames per second continuous shooting (for 17 frames)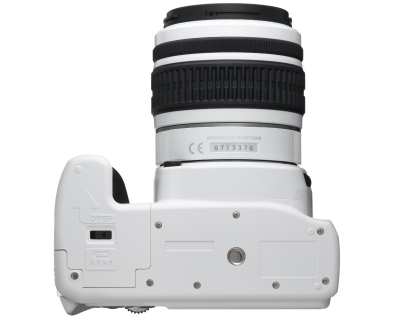 Finding your perfect instrument for your photography uses is kind of hard since there are a lots of camera to choose from especially if you're budget is limited and tight. But according to the Pentax K-m customer reports, many customers found this extremely great with its offered options and modes which makes up to its price.