We were big fans of the Drift Innovation HD Ghost and there's a lot to like about the new Ghost-S, too. The two cameras look alike, but their specifications and performance are different. The HD Ghost had a maximum recording resolution of 1080p at 30fps, but the Ghost-S is more versatile. The Ghost-S can shoot 1080p video at upwards of 60fps, which is helpful during hectic action scenes, and it also has improved 960p and 720p modes. It can shoot 120fps at 720p, which is great for slow-motion video. If you drop the resolution to 848 x 480 it's even possible to record at up to 240fps.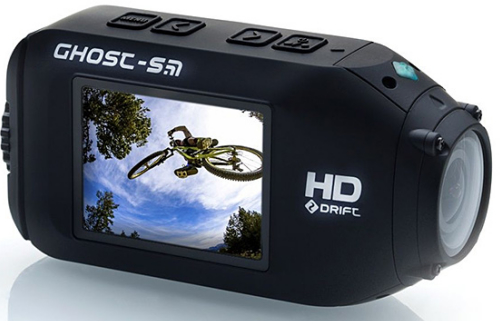 The large 2in LCD is made from Corning Gorilla Glass so should survive a few scrapes. The display is useful for navigating menus, live video views and playing back footage. The Ghost-S is designed to be mounted horizontally, so that it sits fl at against most surfaces, helping reduce vibrations and wobble. It comes with a universal clip, goggle mount and adhesive mounts, and a standard 1/4in-20 tripod mount in the base of the camera means you can also use third-party mounts.
The controls are simple, with all its buttons located on the side. On the back is a removable panel that protects the Mini USB charging port and Mini HDMI output. There's also a 3.5mm connection for an external mic. With the rear cover attached, the camera is waterproof to 3m, and a waterproof case is available for £35 that lets you record at depths up to 60m. You can rotate the lens through 300˚. The lens' default position, when all sides are flush to the camera's body, is oriented for when the camera is stood on its side, so you'll need to remember to rotate the lens when the camera is mounted on top of something so that your video doesn't come out sideways.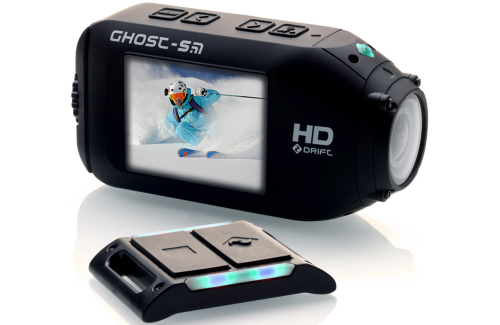 The Ghost-S felt secure when mounted and its low, squat body helped reduce any vertical camera wobble. This helped the Ghost-S record some of the smoothest footage we saw in our high-speed test run. Video had nicely saturated colors with a good level of detail in the grass and foliage. Similarly, static test footage was generally well exposed, and we had no problems with noise and compression artefacts. The camera's apps are available for iOS and Android, and are easy to use. They allow you to adjust settings such as field of view, exposure and frame rate as well as triggering recording. The app also provides a live view of the camera's sensor, but there was noticeable lag and the feed wasn't as smooth as we would have liked. Usefully, it's possible to copy photos and videos to your smartphone to share.
The Drift Innovation Ghost-S is simple to use and its large screen is useful for control and for previewing footage. It's more expensive than the Ghost HD, but has some useful extras such as a greater choice of video recording modes. Battery life is also respectable, at two hours, 18 minutes. The Ion Air Pro 3 Wi-Fi has the edge for image quality, but the Ghost-S's versatility wins it a Best Buy award.