Toshiba Camileo X-Sports Review
The Toshiba Camileo X-Sports weighs just 94g, so you'll barely notice it when it's mounted on your helmet. Toshiba provides lots of accessories with the camera, including a waterproof case, remote control, a clip mount, flat and curved adhesive mounts and surfboard, bike and tripod mounts. These work with or without the waterproof case.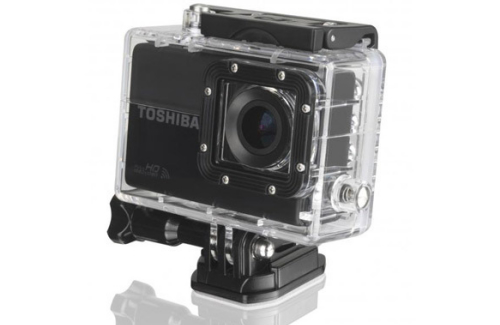 The rectangular design is simple and the camera looks tiny when it's taken out of its tough case, which is waterproof up to a depth of 60m. As the camera itself isn't waterproof, you'll want to make sure it's kept in the case when in use. The X-Sports' buttons are hard to operate when it's in the case, requiring a firm and forceful press for something to happen. There's a remote control, or you can control the camera with the Toshiba WiFi Connect app for iOS or Android. This provides a live feed from the camera, but expect some lag during the feed.
You can also use the app to change the resolution and control the 10x digital zoom, such a large sensor combined with a maximum ISO 6400 means the camera performs well when taking still photos in low light, though there is visible noise. The lens has a wide aperture of f/2.8, and an electronic image stabilizer helps reduce shakiness. You can capture burst images at up to 30fps, but you'll have to reduce the photo resolution to five megapixels to do so. At the full 12-megapixel resolution the maximum burst rate is 10fps. A simultaneous video and photo setting lets you record video footage while capturing still images at specific intervals. The 2in LCD display has a low resolution of 320 x 240 pixels and poor brightness levels even on its highest setting, but it's useful to have to make sure your video is framed properly and to change the camera's settings.

The X-Sports' menu provides you with the usual array of video options, and you can choose to shoot Full HD video at up to 60fps. If you reduce the resolution to 720p you can even shoot at 120fps, which is useful for creating slow- motion videos. Video recording battery life is adequate; in our battery test, the X-Sports lasted one hour, 32 minutes while recording video at 1080p and 30fps, which matches Toshiba's claimed battery life. We tested the X-Sports with our HPI Racing Bullet MT test radio-controlled car and it performed better than expected. Grass had lots of detail and clouds and sky weren't overexposed. The image stabilization did a good job of keeping wobble under control and the solid mount also helped avoid shearing.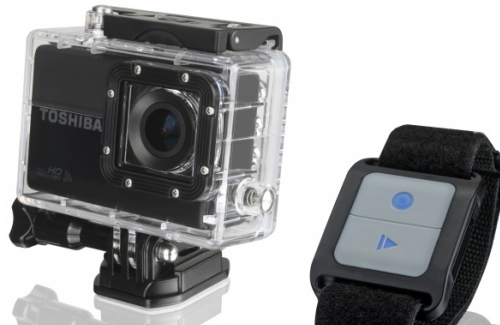 The Toshiba Camileo X-Sports is a good value, thanks to its generous supplied mounts and accessories. Its image quality is just as good as that of the Garmin Virb Elite, which costs slightly more, so Toshiba's camera is our recommended model if you don't want to stretch to the Drift Innovation Ghost-S.