This entry moves away from the business-like setups featuring cameras and digital recording devices, and is more of a direct competitor to our first entry, the iON The Home. The Belkin NetCam HD WiFi Camera has a 3mm lens with a 2MP image sensor and a 1/3″ CMOS sensor capable of resolutions of up to 1280 x 720. The horizontal viewing angle is 78°, vertical is 45° and you get a very good 90° diagonal view as well. The night vision element comes courtesy of eight infrared LEDs, and is surprisingly clear even in extreme low-light levels. Indeed, it's the best night vision lens we've tested so far.
As the name suggests, this is a wi-fi model with 802.11 b/g/n capabilities and the ability to view the feed from the camera via the NetCam app, which is available for both Android and iOS devices. Interestingly you can also use the WeMo home automation app, to not only view the video feed from the camera, but also set up certain situation-specific triggers.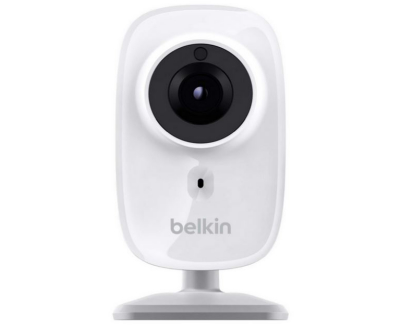 The NetCam is finished in all-white plastic. Another puck like device that sits on a leg attached to a wider base; it has a simple, webcam-like look although it doesn't feel quite as sturdy or as well constructed as its competitor from iON. Setting everything up is a simple enough affair, you just attach to the camera's wi-fi signal and follow the app's on-screen instructions. Once setup the image is rather good, and reasonably clear. There were a few instances where movement slightly quicker than a walk causes lag and ghosting, though, and the night vision mode did seem to glitch out on more than one occasion.
You can setup email alerts when movement is detected, and recording can be handled through the Cloud+ service that will keep your footage for a minimum of fourteen days for as little as £10 per month. The Belkin NetCam HD WiFi camera is a reasonably good home surveillance setup. It's easy to get working, and to use, and it can perform well providing the circumstances are just right. Plus, there's the interaction with home automation products and apps, which is a little more alluring than most other kits. However, we thought the overall quality was lacking somewhat.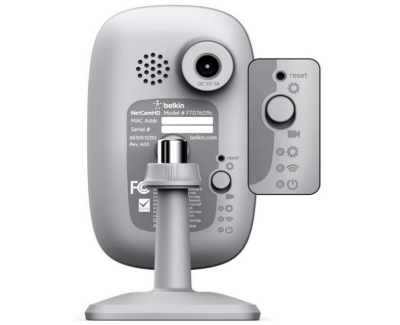 The video feed and streaming didn't feel quite up to the same level as the iON device, and the camera felt a little flimsy too. For $150 (now only at $75) on amazon, the same cost as iON's device, we would have expected a little more. As we said, though, the home automation element may attract more users that just its home surveillance applications.