Canon's latest addition to its professional camera lineup, known as ME20F-SH, is a multi-purpose camera that's equipped with an enhanced version of the 35mm full-frame CMOS sensor, which delivers ultra-high-sensitivity performance to capture Full HD video in extreme low-light conditions without the need for infrared illumination.
Originally developed back in 2013, the 2.26MP CMOS sensor has pixels measuring 19 μm square, which is more than 5.5 times the surface area of the pixels on CMOS sensors of most high-end DSLR systems. This large pixel size enables the ME20F-SH to capture sharp and vivid footage with a minimum subject illumination of 0.0005 lux, equivalent to an ISO sensitivity of 4,000,000 at maximum 75 dB gain setting. In terms of aesthetics, the ME20FSH's cubic chassis looks quite sturdy and features a modular design that allows for custom configuration on camera mounting points for discrete placement. Due to its compact form factor and low-light sensitivity, the camera is perfect for night surveillance, nature, wildlife, documentary, and other such usage applications.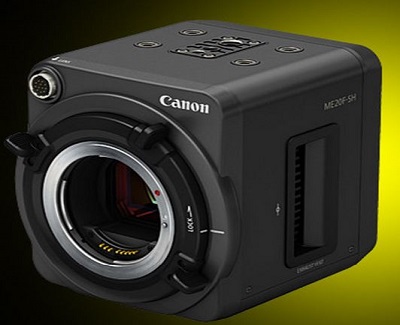 What's most versatile about the ME20FSH is its compatibility with Canon's EF and Cine lenses. This effectively allows users to choose the ideal lens based on the scenario that they are trying to capture. The camera does not record video internally and only outputs signal via its 3G-SDI and HDMI terminals. Also, it is compatible with the optional Canon RCV100 remote controller for video capturing from hard-to-reach locations. As for capturing video with great dynamic range, the camera is equipped with Canon Log and Wide DR modes. The ME20F-SH is scheduled to arrive sometime in December 2015 with a recommended retail price of US$30,000.