Canon Selphy CP910 Review
"Selfie" might be the buzzword of the moment, but Canon's been using it to brand photo printers for a decade or so. Like previous models, the Canon Selphy CP910 is an extremely compact printer that's designed specifically for printing postcard or credit card size photos, as well as mini stickers. It supports wireless networking, has a color screen and you can print without a computer simply by plugging in USB stick or SD cards.
The CP910 is unusual in that it prints using dye sublimation instead of laser or inkjet technology. In a dye-sub printer, a ribbon of solid dye is heated, turning the dye to a gas that solidifies again on the cool paper passing underneath. The paper passes through three times initially, taking on the yellow, magenta and cyan dye to build up a finished image, before a clear protective coating is added on a fourth pass. It's a fast process and the results are completely free of grain, making it ideal for photos. However, there is a distinct lack of sharpness when compared to high quality inkjet prints and a greater propensity for fading compared to prints from high-end photo inkjets using pigmented inks.
Canon's postcard paper has stamp and address guides on the back, but the printer's paper tray doesn't have an orientation guide to ensure you get the photo the right side up. Print speeds are reasonably quick, with 6 minutes 7 seconds via a USB connection, 6 minutes 44 seconds over wi-fi and 5 minutes 50 seconds using a SD card.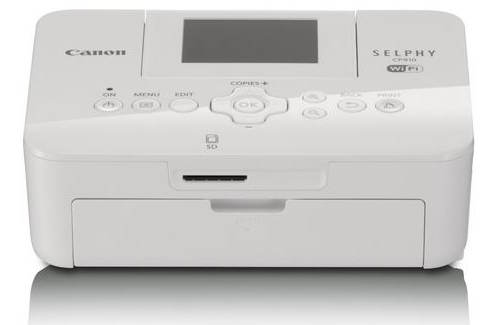 Unfortunately, the results were a bit disappointing. Colors were a little washed out and what should have been distinct boundaries separating those colors were soft and fuzzy.
Annoyingly, our ink cartridge ran out of blue when we were printing landscape shots with with large expanses of sky. Moreover, the single color cartridge meant we had to replace the entire cartridge rather than just the depleted color. This lack of individual color cartridges is understandable though, given the Selphy's diminutive size.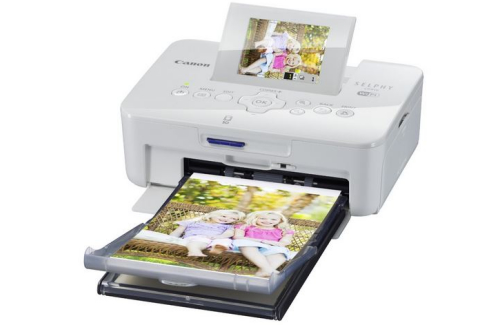 Canon sells ink ribbons and paper in bundles that print exactly 36 or 108 shots; the cost works out at about 22p per 6x4in photo. You can get better quality prints for 10p a print in quantities of 500 or less from foto.com, so the Selphy CP910 is only worth buying if you sometimes need the occasional one-off photo and don't want to wait for a delivery.