Canon SX700 HS Review
The Canon PowerShot SX700 HS is a compact camera with a 30x zoom lens. This in itself is a remarkable technical achievement – it wasn't long ago that you'd only find such a powerful lens in far heavier, bulkier cameras. The slim design broadens the camera's appeal to casual photographers who don't want something that'll weigh them down. It's not exactly a featherweight at 265g, but it's still small enough to slip into a jeans pocket, for example. The massive zoom manages to capture distant objects that would be barely noticeable in photos taken with standard cameras. However, this benefit was slightly undermined by the quality of the SX700 HS's lens. Focus began to deteriorate at the extreme so fits zoom range, particularly towards the edges of photos.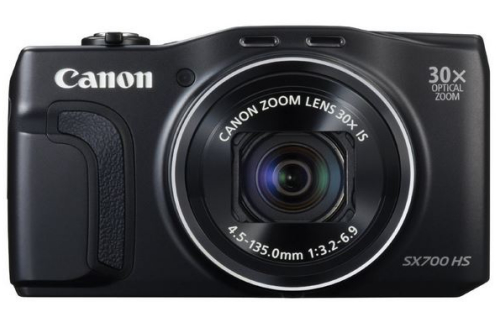 The Canon SX700 HS isn't great for indoor photography, with image quality that's broadly in line with far cheaper compact cameras. Other cameras in this price range, such as the Panasonic LX7, have a shorter zoom but wider aperture, capturing more light for better image quality in dimly lit environments. Our video tests revealed similar results, with great results outdoors, but footage in darker interiors were blighted by noise.
The controls are generally good. A dial gives quick access to such options as determining the aperture size and setting manual mode. There's not much control over the focus, though – you can choose a fixed central area or leave it to the camera to select a focal point. There's a dedicated button for activating exposure compensation and a wheel at the rear of the camera for adjusting it, so it's quick to fine-tune the brightness of photos. One problem with such a powerful zoom is that it can be hard to frame distant subjects, because even the slightest movement sends the camera's view veering way off target.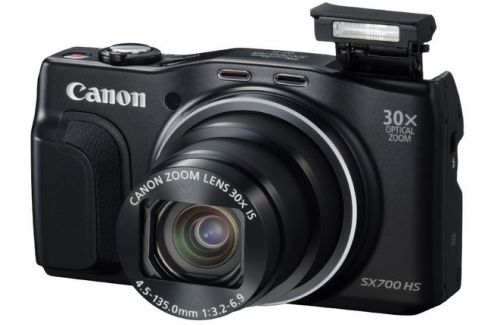 The Canon SX700 HS has a button that quickly zooms out to a wide-angle view, helping you relocate your chosen subject. Release the button and the camera zooms in again. Another button launches the Wi-Fi functions, which work in conjunction with apps for Android and iOS devices to provide wireless photo transfers and a remote-control function. A big zoom is great for wildlife and sports photography, but fast-moving subjects require a quick response from the camera.
The Canon SX700 HS was very quick to focus in our tests, capturing an image every 0.8 seconds–a superb result. The dedicated burst mode was twice as fast, at 2.5 frames per second (fps). Various rival cameras offer speeds of up to 10fps, but they slow down or stop after a few frames. The SX700 HS's kept going at 2.5fps until the card was full.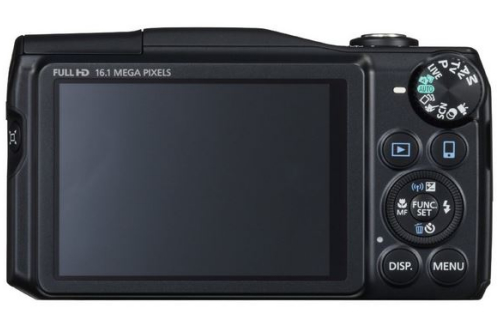 A huge zoom lens in a small camera is such a great idea that we'd be willing to forgive the SX700 HS's poor low-light performance for the sake of its huge zoom range. The lens' sharpness problems are disappointing though and prevent this camera from getting an unconditional recommendation.