Lately, there has been a surge of new 360 cams. This is perhaps due to the rising awareness over virtual reality headsets that have sprouted. And because of this companies are expecting that 360 cams will become a commodity in the near future. One very prominent company that is investing a huge effort, and money, to build and promote 360 cams is Casio. Just recently they unveiled the EX-FR200, this camera is a successor to the older EX-FR10 and EX-FR-100.
But the thing is, there are numerous other offers that have come to the market lately that you may find another offering nothing but ordianry. But, to better the competition, Casio has designed the EX-FR200 to have a detachable, 185-degree lens. This same camera can be fitted to the top of an LCD touchscreen, its control module. It is clipped onto the rear of the screen resulting to an appearance similar to an average camera.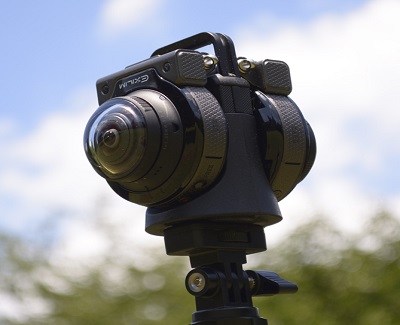 But because it is detachable, it can be operated remotely and independently through Bluetooth connectivity, no wires here. And when you feel the need for that 360 shot, you can clip two of the lenses back to back making it a true 360-degree camera.
The EX-FR200 shoots in four different modes. One, it can capture a 180-degree 3888 x 3888 fisheye image. Second, it can capture unwrapped 360-degree 7456 x 1864 panorama. Then there's that super-wide 208-degree photo. Lastly, this camera, of course, can capture that 360-degree image. Also worth noting is that the camera can capture 4K video. It's also comes in a rugged construction with its waterproof, freeze-proof, and drop resistant built. Casio says it will be available in Japan by mid-September, it was not divulged if it will be made available in other markets.