In the age of 'selfies', it's not a shock that manufacturers makes a camera to cater the need. Of course there are cellphones that has enough power to take a proper selfie, but wouldn't it be great if you have a dedicated camera to do just that? That's what Fujifilm thought and came up with a solution. And their latest offering for this market is in the form of their new entry-level mirrorless X-series camera, the X-A3.
This new offering comes with a revised, retro-inspired design. Well, it's really intended to appeal to younger users, the next generation of photographers. With its newly developed 24.2MP APS-C CMOS sensor, it should be more than enough for aspiring photographers. Technically speaking though, the X-A3's resolution matches the company's two flagship X-series cameras: the X-T2 and X-Pro2. The main difference is that the sensor in this new selfie-cam doesn't employ Fujifilm's unique X-Trans CMOS technology. It instead utilizes standard, and much cheaper to produce, CMOS design paired with a Bayer color filter.
The native ISO range for the X-A3 can only go from 200 to 6,400, this is quite a no-no for professionals. And it does not help that the camera can extend to 12,800 and 25,600 speeds. Also worth noting, this mirrorless camera comes with its 59-point autofocus system. This is dwarfed by 325-point system found in the Fujifilm X-T2 or the X-Pro2's 273 AF points.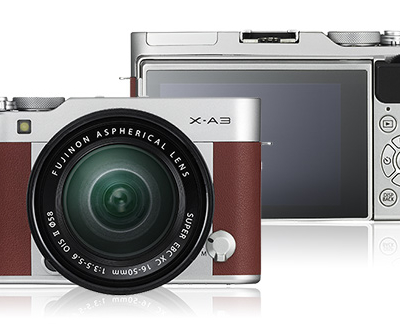 Yes, seasoned users may find these shortcomings inadequate for their needs, but for the target market, those budding photographer and selfie-addicts, it should do justice. And because of these shortcomings, the camera was made very affordable and should entice new buyers as well. Even so, X-A3 users will still enjoy using all of Fujifilm's popular film simulation modes, the two new Pro Negative High and Pro Negative Standard presets included. This camera will be available by October for $599.