The HP Envy 4500 is pretty cheap, but its features match those of a more expensive printer. There's support for wireless networking, automatic duplex (double sided) printing, and the ability to print from Android and iOS mobile devices. However, HP has cut a few corners to keep the price down. It takes black and combined three-color ink cartridges, rather than the individual color ones. This means you'll need to replace the entire color cartridge if you drain just one of its colors. It also lacks a touch screen. These compromises are reasonable for the price, but mono-print costs are surprisingly high at 4p per page, even using HP's high-capacity XL cartridges. This is balanced out by a low color-print costs of 5.75p per page, which gives you a reasonable mixed black and color cost of 9.8p. The print driver is over simplified, hiding away a lot of everyday options in the complicated advanced section.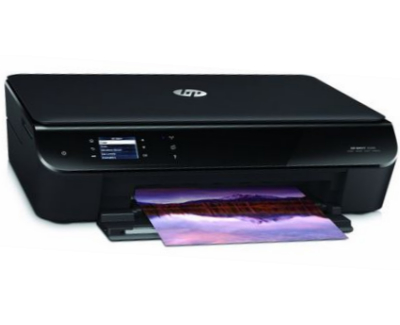 Bizarrely, this includes paper size settings, which is a basic need for anyone looking to print photos, particularly as the Envy range has full support for borderless photo printing, unlike HP's Deskjet range. On the plus side, there's a lot to like about the HP Envy 4500 when it comes to print quality.
In our test, it produced fairly good black text on plain paper, while color graphics were excellent. Tones were vibrant, and there was little sign of banding. Photo print quality can't rival that of photo printers, but the results were still pretty good on a variety of coated papers. While black tones initially looked quite pale and bluish, they darkened in the next couple of days to a deeper shade, although never quite reached the quality of prints produced by devices with a dedicated photo black cartridge.
Our only other gripe was the paper-transport mechanism, whose grip wheels left tiny tracks in the glossy finish of our A4b lack-and-white test print. The HP Envy 4500's scanner handled most jobs well, although contrast levels in high-resolution scans were boosted, giving them an artificial look. Printing and copying speeds were fairly leisurely, with standard-quality text emerging at 8.7 pages per minute (ppm). Draft text was a bit quicker at 13.5ppm and sharp enough to use for most correspondence. The Envy's color-print speeds of 1.8ppm are very slow though. Photos were also sluggish, with six postcard-sized borderless prints taking nearly 27 minutes to print. Scan speeds were also on the slow side, taking two and a half minutes to scan a photo at 1,200dpi. It's impressive to find wireless and duplex features in a printer this cheap, but HP has sacrificed performance and individual color cartridges. Unless wireless networking and duplexing are critical to you, then HP Envy 4500 is for you.