Photography is a passion which requires study and dedication to capture good quality images. But if you don't have the right tools for the job you still could fail. Thus having the right tools for your camera comes very handy all the time. With that in mind, a Chinese optical manufacturer Anhui ChangGeng Optical Technology Company Limited, aka Venus Optics, will be introducing a 12mm lens that the company claims will be the world's widest F2.8 lens that sports a fully corrected distortion.
The lens will come with Laowa brand name. The lens will be called Laowa 12mm F2.8 Zero-D.  The official announcement will be on July 30 through a Kickstarter campaign. The "zero-D" in the name signifies that the lens will have almost zero distortion.
The specs sheet states that this lens will have a manual focus only. It will feature an aperture range of F2.8 to F22. It will have a seven-bladed iris with clicking stops as well. The company also said that it is planning to launch a Magic Shift adapter which will allows +/-10mm of shift converting the lens to a 17mm focal length. But the converter will be available for Sony E-mount users only.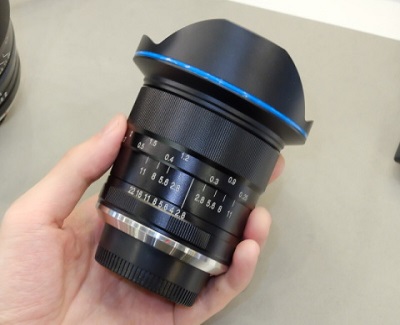 It is expected that the lens will retail at around $949. But as with other kickstarters, supporters of the campaign will be able to grab one from $649. It will be made in Canon EF, Nikon F, Sony A, Sony E and Pentax K mounts.