There is little doubt that digital cameras are moving away from the mainstream technology arsenal of shoppers everywhere thanks to the emergence of high-resolution cameras on smartphones. However, the Panasonic Lumix DMC-SZ7 provides a nice alternative for folks who don't want to whip their phones out and get great looking pictures and movies. Point and shoot digital cameras could make a comeback by delivering solid performance and reliability, and this unit manages to accomplish those daunting tasks.
Pros
Point and shoot cameras have a tendency to be bulky and slow, and like CNet discovered this entry into the Lumix line provides 14.1 megapixel quality packed into a housing not much bigger than the average smartphone. That portability is a major asset to any camera, and along with the ability to shoot HD video, the SZ7 is really a can't miss for the average digital camera user. The camera is fast on the draw and ready for a picture in less than a second, which is a great asset when trying to capture images on the fly. The 10x zoom allows users to get up close and personal with any photographic subject, which means just about anything in sight is fair game for a great snapshot.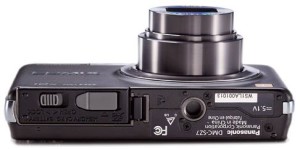 Cons
The near $200 price tag, even on Internet retail sites like Amazon, merits serious consideration for any electronic device. In addition, shuffling through the menus can be a bit challenging despite the more than adequate 3-inch LCD screen. While the 14.1-megapixels are more than adequate for any printed picture or standard camera view, larger printed images or digital viewing in excess of 100-percent tends to degrade the image. Since this occurs in most point and shoot cameras, this Lumix is targeted more toward the general user than anyone considering an SLR camera.

The Verdict
The Panasonic Lumix DMC-SZ7 is great point and shoot option for the average to moderate camera user. The ability to record high-definition video and great pictures in one compact unit that can be easily tucked into a pocket makes this device a winner. The rechargeable aspect of the camera via wall outlet and USB cable is also a major selling point, because the chances of needing to purchase batteries at a theme park, resort, or other destination is eliminated. All things considered, this a well-built camera than can help preserve memories for years to come. The investment in this camera could be well worth it for anyone tired of using their phones.