Everyone is a photographer these days. Did you know that every two minutes, people take more photographs than ever existed in total 150 years ago? Two years ago, Mary Meeker's Internet Trends report revealed that people upload more than 1.8 billion photos every days, which means that we upload around 657 billion every year. And when you consider how many not-quite-perfect selfies aren't uploaded, imagine just how many pictures are being snapped this moment.
Nevertheless, if you're a serious photographer, you probably remember the time when photography was in large part about complicated rules, equations and a fair amount of luck. And the more rules and equations you knew, the less luck you needed to snap a couple of good pictures, but you still could have your soot ruined by unexpected whether conditions. But today the things are much different; you don't need to memorize so much things, because for every mishap and miscalculation, as they say – "there's an app for that".
1.      Pocket Light Meter
Even though light meters get used less and less due to modern cameras taking care of most exposure requirements, there are situations where a light meter is necessary. Of course, the trouble is, they are not exactly cheap, and most people would rather buy a new lens than waste their money on a device they'll use from time to time. But if you have a smartphone and a couple of bucks to spend, you should grab the Pocket Light Meter app, and save yourself the expense.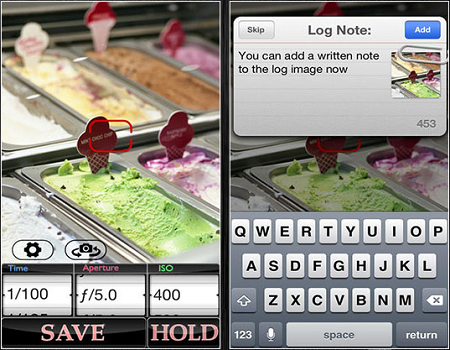 2.      Long Exposure Calculator
Photographers that shoot landscapes need some decent filters, and if you use them often, then Long Exposure Calculator can save you a lot of time. For instance, if you are deciding what graduated ND filter to use, you can simply dial in the readings from the app, and it will tell you whether or not you need filter. But that's not all, LEC has many other features including Calculator for GND filters, Shooting Flowing Water Reference Charts, resources on low-light and night time photography, and many more.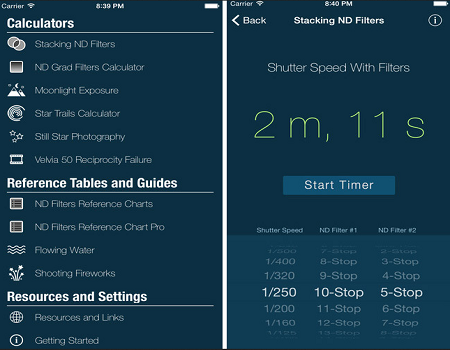 3.      PhotoCaddy
If you're a young, inexperienced photographer, and you want to become more successful, and more importantly, confident, PhotoCaddy is an app for you. It offers a wide variety of tips on different subjects, starting points for cam settings and it also gives you the ability to make and store your own notes. What's more, it allows you to share your experiences and tips with photographers from all around the world. It doesn't matter if you're serious about photography, or you just want to learn some technics and improve your holiday album, PhotoCaddy is a great reference for all skill levels. Also, we have to point out that you might not be able to use this app in countries like China and Portugal that have strict Internet laws, so you may have to use a VPN service such as ExpressVPN to access it.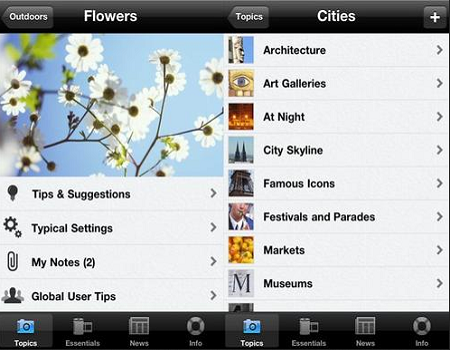 4.      Easy Release
Let's say that you're a street photographer or you work with a lot of models, you are probably familiar with model releases, and if you're not, you need to educate yourself right away. I'll go out on a limb and assume that you are, and that I don't have to explain anything about Easy Release. I think you'll agree that PDFs are great – you cannot spill coffee or tea on them, they are easy to share and they are better for the environment. With this app, you can easily set a custom release that anyone can sign using their finger, instantly generate a PDF and email it to anyone that needs a copy. The best thing is, major houses like iStockPhoto and Getty Images approve the use of Easy Release.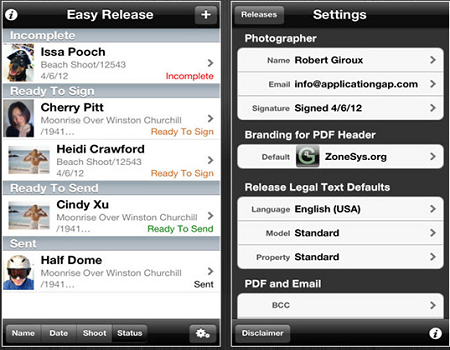 5.      Dark Sky Finder
Light pollution – if you're a night time photographer, I bet it is the bane of your existence. And even though it generally correlates with big, metropolitan areas, finding truly dark locations in this day and age can be a challenge to anyone. As you can guess, Dark Sky Finder does just that – it overlays the light pollution levels on top of Google maps, and lets you choose a street, satellite or a hybrid map. While it may be a one-trick pony, we have to say that it does its job very well.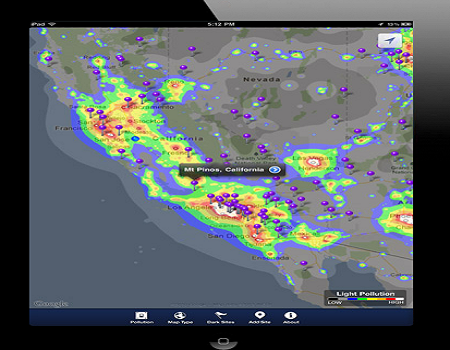 Conclusion
When you come down to it, smartphones are not only great for mobile photography, they are also great for regular photography as well. And seeing have basically everyone has a smartphone by their side at all times, there is no reason not to embrace the additional capabilities that can make your personal and working life a lot easier.
============================================================
Author Bio:

Web development has always been something Adam Ferraresi was passionate about, and it is from his passion that he's making his living. Thanks to the vast knowledge of internet trends and its constant changes, Adam often writes popular articles for wefollowtech.com. He's a born and raised Texan, with his residence in Dallas.
============================================================