Surveillance kits needn't be over-complex 80s style CCTV setups, with a confusing profusion of wires and mounting kits. Indeed, these days, the modern surveillance station is as simple as setting up a webcam. Ion has spent a lot of time in the camera and surveillance industry, and as a result it knows how to present an easy to use kit for the home. The pinnacle of this knowledge is the The Home, a very simple, and affordable wireless monitoring and security device that's ideal for use in the home or at work.
It's available in either black or white, and comes with a decent list of specifications. The small glass 1MP lens has a 102° angle field of view, with a video resolution of 1280×720 and ten infrared LEDs arranged for night vision capabilities. As well as night vision, The Home features motion and sound detection as well as a tamper alert. The Home also has built-in 802.11n wi-fi, a tiny 1W speaker and a built-in microphone; it's compact too, measuring just 86 x 95 x 46mm and weighing around 169g. It works through the use of the connected app, available for both Android and iOS devices, and can be up and ready to use in as little as six steps. In addition to that, The Home also comes with a free cloud service plan, that allows you to view footage from the past twenty four hours.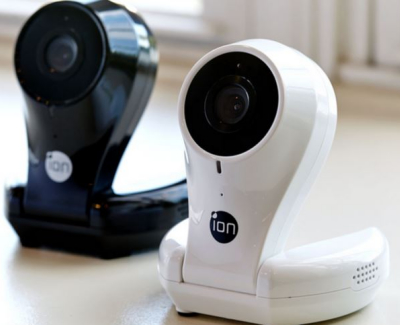 The design of The Home is good for most uses. The tough plastic case is surprisingly rugged enough to take a few knocks, and it's heavy enough to have positioned without fear of it toppling over due to environmental concerns, i.e. being next to a window and getting blown over, for example. The camera itself is slightly reminiscent of an older Logitech webcam setup, where it's positioned in a puck-shaped head that's attached to the body by an arm and hinged to allow the camera to be folded flat, in a clam shell design. The base is sturdy, and the bottom has the necessary mounting slots for attaching to a wall, or underside of a cabinet.
The feed from The Home is very good, although it's only 720p it's more than enough for a clear view of the area it's setup in. The live streaming works well and, thanks to the built-in microphone and speakers, you're able to communicate with whoever is on the other end too. With the controls for the camera setup via the iON app, you're also able to control the rotation of the camera lens, so you can have it mounted upside down if necessary, connect multiple camera and control/view them from within the same app, and you can turn off the front LEDs. The iON The Home is a good little setup, and ideal for keeping an eye on property, pets or a workstation. It's a little expensive, but what you get is a solid package that works well and is easy to use.