The Original RX100 from Sony was the first compact camera to use a 1in sensor. That makes it smaller than the sensors in most CSCs, but much bigger than the sensors in most other compacts cameras. Paired with a wide-aperture lens, its image quality was incredibly high for such a petite camera, especially when shooting in low light. This third-generation model follows the same formula, but with some big upgrades, such as a pop-up electronic viewfinder (EVF). It's a high-quality EVF, too, with a 1.4-million dot (800 x 600-pixel) resolution and a large viewing size. It pops up and is pulled back, but doesn't extend beyond the back of the camera.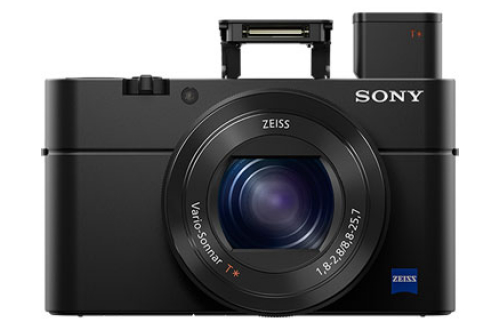 That's not a big problem for people whose right eye is dominant, but we found it uncomfortable when using our left eye. There's also something slightly comical about holding such a tiny camera up to your face. Even so, this EVF is a superb addition, and it's great to see it hasn't pushed up the price much. The EVF does come at the expense of the RX100 II's hotshoe, but it's unlikely that many users will mind.
LENS
Another big change is the lens. The Mk 1 and Mk II models had a 28-100mm (3.6x) zoom, with a bright f/1.8 maximum aperture for wide-angle shots, but an unremarkable f/4.9 at the telephoto end. The Sony RX100 III reduces the zoom range to 24-70mm (2.9x), keeps the f/1.8 aperture for wide angle but provides a much-improved f/2.8 aperture at the long end of the zoom. The f/2.8 aperture equates to three times more light than f/4.9. That means slashing the ISO speed to a third, which greatly reduces noise levels. Whereas the previous models were best left at their wide-angle zoom positions in low light, the Sony RX100 III is much more flexible. Cosmetically, little is different. The camera is 3mm thicker and 9g heavier, but at 41mm thick it's still small enough for trouser pockets, if only just. The controls remain unchanged from the first version but, despite having relatively few buttons, it's reasonably quick to access key settings. The mode dial, rear wheel and lens ring all conspire to keep things moving quickly. The tilting screen can now flip up and over for self-portraits, but it's not a touchscreen, and adjusting the autofocus area feels frustratingly longwinded. Still, we're happy to see that the Flexible Spot autofocus mode now includes the ability to adjust the size of the active area, a feature notably lacking in the RX100 II. An Eye AF function can focus on a subject's eye, but this requires a dedicated button to invoke. It would be better applied automatically, as on the Panasonic Lumix DMC-FZ1000.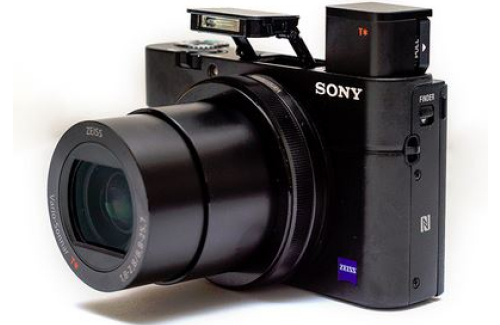 AUTO MODE
We're delighted to see that the Auto mode handles shutter and ISO speeds more intelligently than before. The RX100 II's Auto ISO setting limited itself to ISO 800, which meant slow shutter speeds and frequent blurry shots in low light. The Sony RX100 III could use ISO speeds up to 6400 when conditions demanded it. Meanwhile, it kept the shutter speed down to around 1/30s when shooting static subjects in low light, but raised it to 1/250s for moving subjects to avoid motion blur. It's a sophisticated system that makes shooting on fully automatic settings far more reliable than on the previous model. We measured 0.6 seconds from shot to shot in JPEG and Raw modes. Continuous JPEG shooting rattled along at 9.6fps for 48 frames before slowing to 1.6fps. For Raw, the RX100 III managed 6.7fps for 26 frames. The only weak area is continuous shooting with updating autofocus, which trundled along at 1.7fps. Video capture has been upgraded with the introduction of XAVC S encoding at 50Mbit/s. The XAVC S format isn't that significant in itself, but the jump from 24Mbit/s (for 1080/25p AVCHD recording) to 50Mbit/s minimizes the chances of compression artefacts. Annoyingly, XAVC S recording is allowed only on SDXC cards.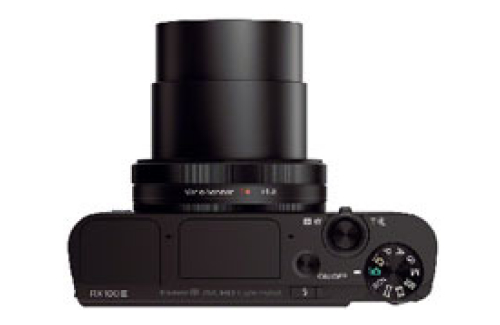 More significantly for videographers, the Sony RX100 III uses a much higher-quality resizing algorithm, which boosts the detail in video. Priority and manual exposure controls are available for videos, and there's a neutral density (ND) filter for controlling motion blur in videos. Autofocus behaved well while recording, but there's no option to specify which part of the frame the camera should focus on during video capture. The RX100 III's 1in, 20-megapixel sensor impressed us with its low noise at fast ISO speeds. The new lens pulls its weight, too, with dependable focus throughout its zoom range. There was a loss of sharpness towards the edges of frames at the widest apertures, but at f/4 images were sharp from corner to corner. With the improvements to automatic exposure settings, photos were excellent in tests. The 70mm (equivalent) maximum focal length may not be ideal for shooting distant subjects, but the 20-megapixel sensor allows for heavy cropping while retaining enough detail for sharing online and 7x5in prints.
It's hardly surprising that one of the most expensive compacts on the market is one of the best. The Panasonic Lumix DMC-GM1 may use an even bigger sensor but it has a darker lens and no viewfinder. For us, the RX100 III's strongest competitor is the Sony RX100 II, which is cheaper. That said, the RX100 III's brighter lens, faster performance, EVF and superior video mode make it worth the extra cost.
– Ben Pitt