When you think about cameras you will surely think about DLSR as the ultimate answer for all your needs. That may be true but that system is quite bulky for mobile use. The better option is always to go after the smaller ones as these cameras will have various applications in almost every area of interest.
Toshiba Imaging Systems Division recently unveiled their latest innovation, the IK-4K, UltraHD 4K, 3-chip video camera with 8-megapixel and 3840 x 2160 pixel output. In other words, it's the world's smallest camera around.
Never misjudge this baby as it is versatile enough to deliver extraordinary detail up to 1600 TV lines of resolution with switchable formats, ranging from 4K at 50/59.94 Hz, to 1080p and 1080i. The result is improved sharpness and fine edge details when compared to 1080p systems. With this, the system can conquer wider applications even when operated in 1080p as compared to some dedicated 1080p cameras. The ultra-compact design numbered at 1.28" x 1.51" x 1.61" and with a weight of measly 2.5 oz., the camera head can be easily integrated into new or existing imaging systems without problems.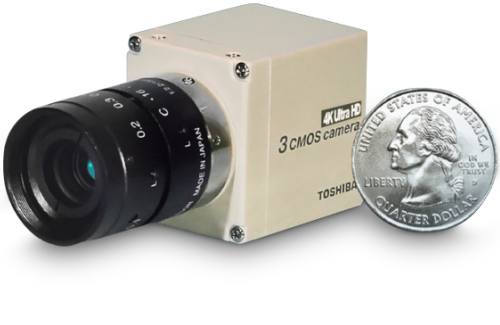 So what is it for the common folk? Although the IK-4K is targeted towards applications such as scientific and military purposes, the technology that built it can be applied to civilian versions as well. With this size and power, this system can be very helpful in improving smartphone/tablet camera and even with some point and shoot that people are fond of using. With this kind of technology, coping with the changing times and needs of consumer can be made better.