Superb photos are the best witnesses for a sweet moment. To immortalize the intense happiness on your engagement or wedding ceremony, you'll need a professional to take photos of you and the event. Girls, have you known some key points that help you look great while taking some photos with a chic wedding gown? If not, pay attention to the following tips.
Tip 1: Shooting Angle
Most people are accustomed to face the lens or light while taking pictures. They always think the face can be much clearer in this case. However, as the light shoots at the face directly, you may blink; besides, there may be shadow at eyehole and lower jaw. Lastly, girls with wide facial form are reminded of avoiding this shooting angle. To highlight facial features, just try different shooting angles and find out the best one.
Tip 2: Morning and Twilight
Do you also think bright light is a must for photography? Many people tend to take photos on the high noon when the sunlight is intense. It's true that sufficient light can improve the color contrast on scenery. But excessively strong light will cause rather obvious shadow on your eyes, nose and neck. What's more, the camera cannot clearly display details on places where are too bright or dark. Therefore, stereoscopic impression of the scenery will lose. On the contrary, light on the morning or twilight is rather soft, which can soften people's outline and better fuses people and scenery. During this time, colors on the sky are rather rich, which can make the background for your pictures seem more dramatic.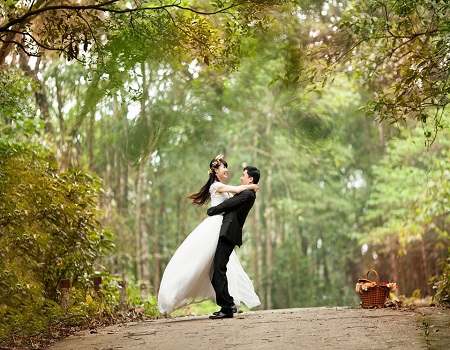 Tip 3: Cloudy Day
Some consider a cloudy day to be bad time for photography. Actually, light reflects at all directions on a cloudy climate and encloses the scenery in this case. Even though there isn't strong color contrast on pictures, details on people and scenery will be clearly highlighted, seeming incredibly clear and vivid. So, don't worry if meeting with a cloudy date. You can take some wonderful photos there.
Tip 4: Backlight
Backlight cannot give sufficient exposure to people, yet an excessive exposure to the background. But if you can grasp some shooting essentials, you can create a cucoloris effect and unique art taste for your picture. Just imagine the graceful silhouette of the bride permeates through the black cucoloris. It mixes together with the soft sunshine or afterglow of sunset, feeling absolutely aesthetic. To create distinctive art photos, it's necessary to try many times. Newbies can take several pictures with different exposure level at the same place. In this case, you will more easily succeed and find out the best one.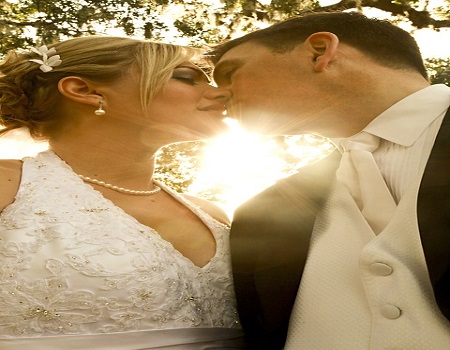 Tip 5: Focus on People
While facing pretty scenery, most photography devotees don't place the lens towards to people, yet the scenery. But don't forget the protagonist for photography on such a memorable date should be the newlywed. It's okay to adopt the portrait mode which is the easiest photographing mode on the oldest cameras. Or, you can use a larger aperture to weaken the background and then highlight people's smile and expression.
============================================================
Author Bio: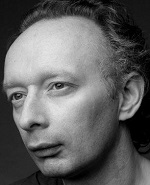 Mark Heartford Smith is a street photographer working mainly in London, had a camera since he was a child and now moved into running a photographic business as well as being an actor as part of his life (Mark Heartford is his stage name).
He also owns a book entitled "Watching London" which is inspired from taking random days in London to see what happens and one day he found what he would term as an extra ordinary day of finding a protest against the government and rough sleeper looking back at his young life. Check out Watching London in Amazon.
============================================================