Having trouble picking the right lens for your camera for your travel photography? We have provided you 3 of the best lenses for travel photography. Check it out below.
The Wide-Angle Zoom
AF-S DX Zoom-Nikkor 12-24mm f4.0G IF-ED. Used with one of Nikon's DX format D-SLRs (which have APS-C size sensors), the 12-24mm has an effective focal range of 18-36mm which means it's great for panoramic landscapes, street scenes, cityscapes and architectural subjects. At 12mm, the angle-of-view is an expansive 99 degrees on an 'APS-C' size sensor. It's comparatively compact and light- weight (just 485 grams), and yet is capable of delivering an exceptional imaging performance thanks to an optical construction which includes three aspherical elements and two made from extra-low dispersion glass. Together, these special elements correct for distortion and chromatic aberrations while also helping to optimize sharpness and contrast. The minimum focusing distance is just 30 centimeters (across the full focal range) and Nikon's 'Silent Wave Motor' (SWM) ultrasonic drive provide fast and quiet autofocusing. Additionally, there's a handy M/A focusing mode which allows you to quickly switch to manual focusing for fine-tuning subject sharpness.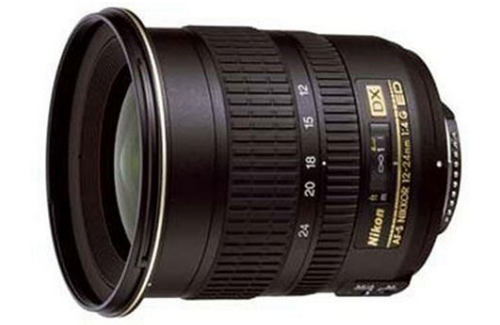 The Mid-Range Zoom
AF-S Zoom-Nikkor 24-120mm f4.0G ED VR. Designed for use with the Nikon D-SLRs with full-35mm sensors (FX format), the 24-120mm combines an exceptionally useful focal range into a comparatively compact lens that's easy to use hand-held. The built-in 'Vibration Reduction' (VR) optical image stabilization further assists with hand-held shooting in a variety of lighting conditions as does the constant aperture of f4.0 which is maintained across the full focal range. The 24mm is great for landscapes and street scenes while, at the other end, the 120mm short telephoto focal length is ideal for portraits and close- ups. In between is a range of focal lengths which can be extremely useful in travel photography (such as 35mm, 50mm or 75mm). Also useful is a minimum focusing distance of 45 centimeters which, at 120mm, gives a maximum reproduction ratio of 0.24x. The optical construction comprises 17 elements in 13 groups, including two made from extra-low dispersion glass (to counter chromatic aberrations) and three aspherical types (to correct for distortion). If you want to travel with just one lens on your Nikon D-SLR, the 24-120mm f4.0 is arguably the most flexible lens in the FX line-up.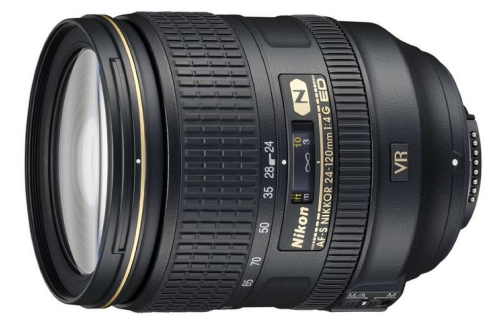 The Compact Zoom
1 Nikkor 6.7-13mm f3.5-5.6 VR. Last entry on our list of best lenses for travel photography is the 1 Nikkor 6.7-13mm f3.5-5.6 VR. Nikon's compact mirrorless camera system allows you to travel very light without sacrificing any shooting capabilities. The V Series camera bodies – such as the V2 shown here – have all the features and functionality of a much bigger D-SLR, but can be slipped in the pocket of a jacket or shorts. The 6.7-13mm zoom has an effective focal length of 18-35mm which means it's suited to everything from scenery to portraits. It weighs just 125 grams and is a mere 46 mm in length, yet it incorporates Nikon's 'Vibration Reduction' (VR) optical image stabilization and the optical construction includes both aspherical elements and those made from extra-low dispersion glass to deliver a very high degree of correction. It's hard to believe such a small lens can deliver such a big performance.