Water adventures are quite thrilling. That's the reason many people like to take pictures just to make the thrills last longer. But before, you have to take the shots away from the water as it can damage your device. Fortunately today technology has evolved to give thrilling waters a glimpse without worrying about the splashes. And when you can't get enough of water thrills, here are some of the cameras that can get going even under water. It is for you to decide which one you will consider as the best waterproof camera.
11 Best Waterproof Cameras
Canon PowerShot D20
Waterproof to 33 feet with an operating temperature range from 14-104 degrees Fahrenheit and shockproof up to 5 feet, this camera will surely stand every beating that comes. As sturdy as its shell, it has enough prowess through its 12.1 effective megapixel, high-sensitivity CMOS sensor. It has 3-inch TFT PureColor system LCD to boot which makes picture viewing easier and better. If stills are not enough then you'll be glad that it packs full 1080p HD video with dedicated movie button.it as well have 5x Optical Zoom with 28mm wide angle lens .further, it has GPS tracker to record image locations on a map via Canon's software.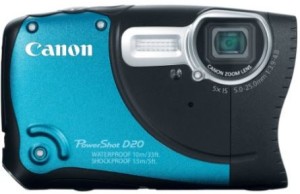 Canon PowerShot D30
Waterproof up to 25 meters, this bad boy can take 12.1-megapixel shots and record 1080p HD videos at 24fps. The 25mm wide-angle lens zooms in at a maximum of 5x. Thanks to Canon DIGIC 4's smart IS auto, the PowerShot D30 adjusts to diving and snorkeling photographic conditions, so you won't have to worry about images of your favorite sea creatures coming out all dark and blurry.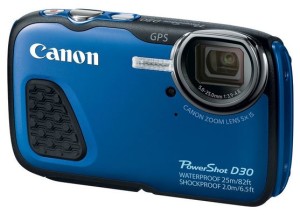 Panasonic Lumix DMC-TS25
This waterproof camera comes from Panasonic. Powering this camera is its 6.1 Mega Pixel with 4x optical zoom, 8x Intelligent Zoom and Mega O.I.S. It may not sound much but for underwater close encounter, it's enough to show the details. Its rugged construction ables it to be water-proof up to 23 feet, shock-proof from 5 feet, freeze-proof to 14 degrees F with an addition of being dust-proof. It comes with 2.7″ LCD Screen, Intelligent Auto Mode, Venus Engine, 12 effective create control all to make things easier and for the resulting shots better. Video recording is decent with its 720p Motion JPEG Video capability. Together with Sonic Speed Auto Focus, Creative Panorama Shot, this is good enough to record the adventures ahead.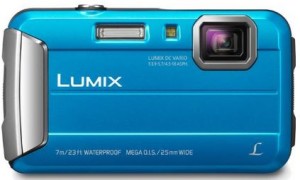 Ricoh WG-5 GPS
Ricoh loves to take conventions out of the box, and it's no different with this snazzy-looking camera. The Ricoh WG-5 GPS makes your snorkeling a little more stylish without scrimping on quality. Dive with it down to 14m under the sea and feel confident with the WG-5 GPS' ability to withstand up to 100kg force, preventing underwater pressure from interfering with your shots. The 16MP sensor coupled with the large f/2 aperture gives you clear images. And with up to 1cm of macro focus, you can get up close and personal to show off some wet detail.

Ricoh WG-M1
Just when you thought Ricoh has had its fair share of the unconventional, it comes out with the Ricoh WG-M1, which takes underwater cameras to a completely different level. Following a sleek, airtight hybrid design, this thing of curiosity feels like a flashlight in your hand. With a sure grip, the 14MP CMOS sensor, 1080p HD video recording, and 160-degree f/2.8 wide-angle lens, all you need to worry about is taking your girlfriend's underwater portrait before she runs out of breath.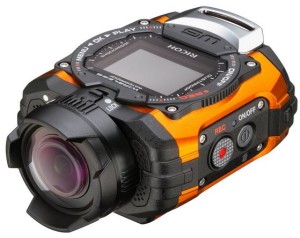 Fujifilm FinePix XP60
Conquering the depths can be easier with this camera as it can be operated safely up to 20 ft. It is shockproof up to 5 ft. and would still work at to 14°F. It boasts 16.4 million effective pixels with its 1/2.3-inch CMOS image sensor with primary color filter and optical image stabilizer for perfect underwater scenes. It has 2.7-inch TFT color LCD monitor so you can view your pictures with clarity. Featuring a Fujinon 5x optical zoom lens with approximately 2x digital zoom, it has enough space of around 10x overall zoom. It supports full HD movie recording (1920 x 1080p) with a dedicated Movie Recording Button and Burst Mode Button for those fast acting moments.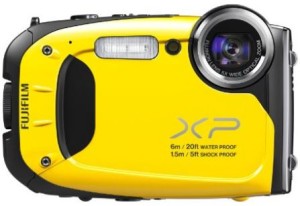 Fujifilm FinePix XP80
Another contender for best waterproof camera is another one from FujiFilm. If you're the overly and overtly sporty, you'd love to get your hands on the FinePix XP80. Its rugged design gives you a preview of the camera's uncompromising power under the hood. Expect nothing but luster and leverage when you take the FinePix XP80 out for a spin on your next beach adventure. Spewing out 16MP still images and 1080p HD videos, the FinePix XP80 impresses with its photography prowess too.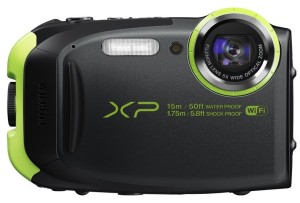 Nikon Coolpix AW130
When you take a first look at the AW130, you'd think right away that this thing's built to last, easily making it the go-to gear for adventurers and travelers. Entering the fray with a 16-megapixel CMOS sensor, this shooter can take crisp shots with the vibrant colors Nikon is known for. Take advantage of the 1080p HD video recording with Stereo Sound to appreciate all the undersea blobbing and globbing as if you're still there.

Coleman Xtreme C5WP
Judging on the price alone will make you think if this camera can really live up to its promise. But hey, it has 12.0 Megapixel resolution which results to crisp images even underwater. It has a 2.7″ LCD screen to preview your shots. It can withstand water even up to 33 feet. It has 10 scene modes with anti-shake technology so you can adjust and take shots with a little pause in between. It supports micro SD up to 8 GB so you'll have enough space for everything. On top of that, it has self-timer and smile shutter which are perfect add-ons.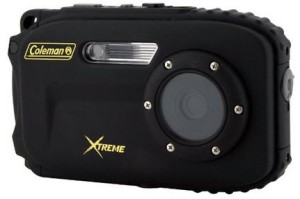 Olympus TG-4
This monster camera kicks ass on land and in water. The 250g TG-4 comes packed with all the features you need to withstand underwater depths of down to 50 feet. It is also shockproof up to 7 feet, temperature resistant up to -10OC, and completely dust-free. This badass camera can withstand up to 100kg of force, while gifting you with 16MP photos (with RAW support) and 1080p HD videos. Pair the TG-4 with its free Android or iOS app to transfer your geo-tagged photos easily

And our best waterproof camera is…
Nikon COOLPIX AW100
Our best waterproof camera has enough ruggedness in it. It is water-proof to a depth of 33 feet, shock-proof up to 5-feet and can be operated at very low temperatures. It has 3 inch LCD display where you can view your shots made through its  16 effective megapixel CMOS sensor,  ideal for low light shooting and fast operation. Its zoom function is can cater up to 5x, while its digital counterpart is around 4x. It supports Full HD (1080p) movie with stereo sound. It has movie-record button that enables one-touch recording making it easier to toggle operation. Overall, you can never go wrong with it.