Considered as one of the world's smallest and lightest DSLRs, does the Canon EOS 100D compromise in terms of handling and features?
Known as the EOS Rebel SL1 in the USA, the 100D shares many features with the 700D, including the 18MP sensor, a nine-point AF system and DIGIC 5 processor, but in a much smaller package. The body also contains the same hybrid AF system (combining phase-detection and contrast-detection systems), which improves the accuracy and speed of autofocus in Video and Live View modes. Apart from the size, the main difference between the 100D and 700D is the screen.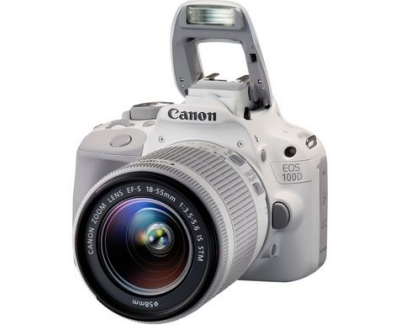 Design
The fixed 3-inch Clearview (1,040K dot) screen is large enough, bright and has decent clarity for critical work in most lighting conditions. Overall, the 100D handles well. The form factor and minimal weight will appeal to those moving up from compacts who are put off by the thought of lugging around a bulky DSLR. A small camera body is pointless unless you have small lenses to put on it, and with some of Canon's better lenses the camera doesn't balance that well. That said, the target market for the camera is obviously first-time SLR users, who are more likely to use it with one of the lighter lenses.
Features
The 100D is aimed at the less experienced user, so as well as the usual PSAM modes, there are scene modes such as Landscape and Sports, as well as special scene modes including Kids, Night Portrait and Food. There are also creative filters available as one of the many custom functions. These include grainy black and white, soft focus, toy camera and fisheye effects. New shooters will enjoy playing with these, but experienced users may prefer the greater control they get using Photoshop. The 100D records full HD video at 25fps with other options available. It works well with the new STM lenses, which are designed for quiet focusing when shooting in Movie mode. It wouldn't be your first choice as a video camera, but the Movie function is a good addition. The Canon EOS 100D packs an awful lot of features into a very small body and it provides excellent value for money. It's clearly a beginner's camera, but one that those new to SLR photography will take quite a while to grow out of.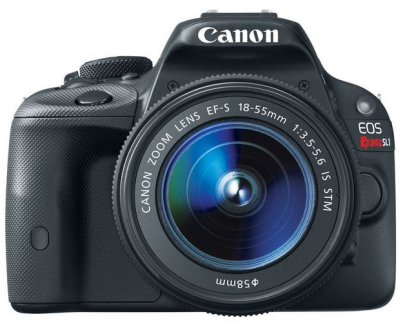 To sum it up:
For a beginner's camera, the Canon EOS 100D boasts an incredible number of features, all contained in an extremely compact and light body. It's a great step up for those graduating to DSLR from compacts as it allows room for experimentation.