CANON'S G-SERIES cameras have provided discerning photographers with pocket-sized cameras for over a decade. With their optical viewfinders, hotshoes and plentiful supply of buttons and dials, G-Series models make SLR users feel right at home. However, the Canon PowerShot G16's 12-megapixel 1/1.7in sensor looks small, especially considering that the new wave of compact system cameras (CSCs) have sensors between three and nine times bigger (by surface area). Can the G16 compete on image quality?


CONTROLS
We can't fault the Canon PowerShot G16's controls. There's a command dial and rear wheel to adjust settings, a mode dial and another dial for exposure compensation. Labelled buttons cover ISO speed, focus mode and exposure lock duties, and there's a customizable button that we assigned to a one-touch manual white balance control. Other functions, including drive-mode, JPEG and Raw settings and the integrated ND filter, are neatly organized in the quick-access menu, which can be customized to hide any settings you don't need. Beyond these controls, the ergonomics are more mixed. At 356g, the G16 is relatively heavy for a compact camera, but it feels reassuringly solid and sits comfortably in the hand. The 3in, 922,000-dot screen is sharp, but we wish it had the articulated design of the Canon PowerShot G1X. It's great to have an optical viewfinder, but it'd be even better if the view was bigger and less blurry. Looking through it involved perching an eyebrow on the hotshoe, which wasn't the most comfortable experience. The Canon PowerShot G16 has Wi-Fi built in, but it's a simple implementation.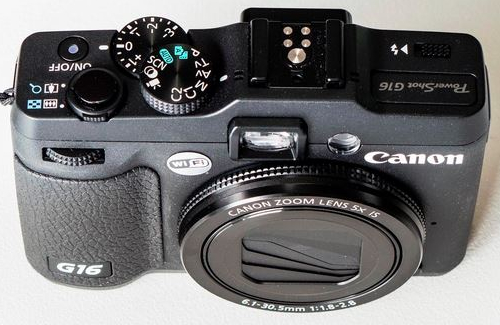 Photos and videos can be browsed and copied using the iOS and Android apps, and there's an option to use a phone's GPS radio to geo-tag photos. The camera can't transfer Raw files to the app, though, and there's no remote control function. The G16 switched on and captured a shot in 1.7 seconds, and took the same time between subsequent shots, which isn't a blistering performance. Bizarrely, it performed better in Raw mode, capturing a shot every second. When used in continuous mode, the G16 captured JPEGs at an incredible 10fps for over 50 frames before it slowed slightly. Only the Canon S120 matches this performance. As with the S120, the G16 can also shoot at around 5fps with continuous autofocus. However, the camera drifted in and out of focus, and only a small percentage of photos were sharp. The G16's continuous mode is impressive, but we'd have preferred as lower continuous mode that delivered more consistent results.
PHOTO QUALITY
Photo quality makes or breaks a camera such as this and in this respect, the G16 does well. Automatic exposures were well judged, with colors that struck a balance between flattery and accuracy. Details weren't quite as precise as from the similar Nikon P7800, both for JPEG and Raw output, but in most instances the difference was negligible. This is most noticeable towards the edges of frames, with the P7800 delivering clear focus and the G16's output looking fuzzy in comparison. However, the G16 took a narrow lead in low light, with less intrusive noise-reduction artifacts.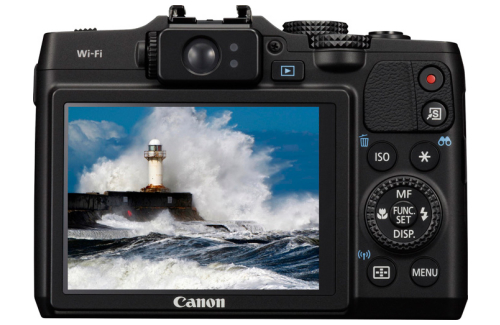 Given that there are cameras with bigger sensors and similar prices that are also pretty compact, we feared that the G16's noise levels would be a lot higher for a given ISO speed. However, its brighter lens means there's no need to worry. When we set the Panasonic Lumix DMC-GM1 and the G16 to the same 1/20s shutter speed in low light, the G16's wider aperture meant it could use ISO speeds that were around four times lower. Image quality from both cameras was remarkably similar, and we struggled to pick a winner. As for video, the Canon PowerShot G16 lets you record videos at a resolution of 1920×1080 at 30 or 60fps, and our test footage was packed with crisp details. Noise reduction kept low-light shots looking clean without reducing detail levels too much. Autofocus sometimes wandered o track, but on the whole the camera performed well.
QUALITY COMPARISON
Ultimately, there's not a huge amount of difference in image quality between the Canon PowerShot G16 and the Lumix DMC-GM1. If money were no object, we'd go for the Lumix DMC-GM1 CSC because of the flexibility afforded by its interchangeable lenses. However, the PowerShot G16 beats the DMC-GM1 for physical controls, and it includes a viewfinder. If these features are more important to you than interchangeable lenses, you should go for the Canon PowerShot G16. We hope that this canon powershot g16 review will help you in finding the camera that you are looking for