With the rise of modern smartphones and tabs, it's not just the PC market that has been feeling the pressure. The camera world has been shaken as well. These days many folks favor to use their smartphones than full-fledge cameras to do the job. But, is there still a reason to choose a standalone shooter these days? Here are some good reasons that Canon PowerShot SX500 IS is trying to show us.
Wide angle and better zoom.
The SX500 IS delivers a good punch through this department. This super-zoom bridge type camera sports a 30x zoom capacity coupled by a 24mm wide-angle. Of course smartphones also comes with zoom but this camera will put that in shame in comparison.
Powerful delivery.
In the modern warfare in the pixel department, the PowerShot SX500 features a modest 16 effective megapixel out of a 1/2.3-inch CCD sensor. Also, this camera has Digic 4 image processor. Yes these things don't sound really that much but the combination still delivers enough crisp and clarity for your images.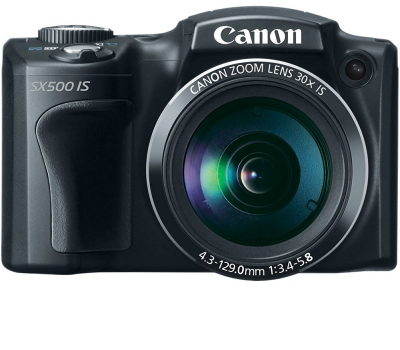 click on image for full specs and discount
Canon could have opted for a more powerful Digic 5 processor but this move lowered the price making it very competitive. Also, this camera has a 24mm Wide-Angle Lens (35mm equivalent: 24–720mm) which resulting to better shooting versatility. It comes with Optical Image Stabilizer that helps capture crisp, brilliant images at any zoom setting. These days, cameras are not just expected to shoot perfect photos, video recording is a must as well. And with PowerShot SX500 IS, you can capture stunning 720p HD video at 25 fps in stereo sound quality through its dedicated movie button.
Design.
Overall, the camera has slim and compact body. Then there's that giant zoom that while delivers good resulting images, may not be a good thing for those who wanted something that can slip through tight spaces. Also, the camera has rounded corners featuring angled grips. This makes up for that natural fit for the palm for better overall comfort. It's also a nice touch that this PowerShot has 3.0-inch LCD. This makes checking your shots easier as it comes with high-resolution (approximately 461,000 dots). The same display also made using the camera's menu functions convenient. It as well has a Night Display feature for easy viewing in low light environment.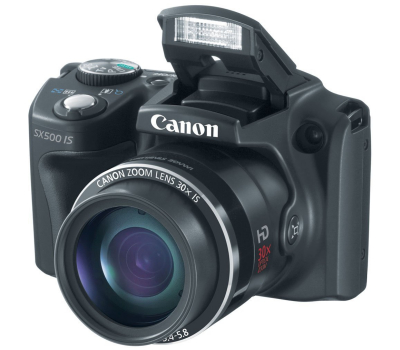 Bonus qualities.
While the camera has modest performance in comparison with today's standard, it comes with enough capacities to fill those small gaps. It has an enhanced Zoom Framing Assist button that helps in tracking and capturing subjects resulting to sharp super telephoto photography.  Also, the camera comes with a new High Speed AF that dramatically reduces lag time so you can keep up with your subject better.