Another great camera from Fujifilm is the FinePix XP10. This camera is known for its all-action features such as being waterproof, shockproof, freeze proof and dustproof. The camera comes in a very compact design yet it contains so many features that will blow your mind. The camera captures up to 12 megapixel images and 720p HD videos.
It comes with a crisp 2.7 LCD screen, awesome 5x optical zoom lens and protective lens barrier. It also has an auto-upload feature to your favorite social networking sites Facebook and Youtube. It comes in colors black, green and silver. It sells at around $199 which is really affordable for this type of camera.
The Fujifilm FinePixXP10 is the perfect camera for the adventurous. This camera can be taken to the beach, mountain, or wherever you please! This camera has been rated 5 stars by many users on different Underwater Digital Camera Reviews. The XP10 is one of the best waterproof cameras and can be submerged up to 3m or 10 ft. It is also a hardcore shockproof camera up to 3 ft or 1m and will not freeze until down to 14°F. Oh wait, it is also dustproof! Well, you certainly do not need any more proof that this camera is the bomb. No other camera has ever combined all these features in something so compact as the Fujifilm FinePix XP10.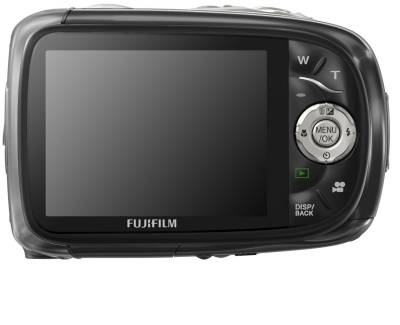 The Fujifilm FinePix XP10 is shaped like no other compact digital camera. It is shaped like a pill which is narrower on the other side. The lens of the camera kind of looks like a big eye and looks really nice. Add to that the metal finishing of the body and a very useful grip. The camera is really lightweight at 135g excluding battery but you can feel the solidity when you hold it. The size of the camera is just 95.6 wide and 23.3 in height. This is very slim for such rugged type camera.
Even if the camera has a plastic construction, this camera from Fujifilm is one of the best in terms of quality. The FinePix XP10 has an internal 5x optical zoom lens which does not extend. It reaches the focal length of 36 to 180 mm in 35mm which is very useful for telephoto. However, the aperture is pretty slow at f/4 on the wide but fights back at f/4.8 on the other tip of zoom range. The auto-focus feature of the XP10 too is one of the best ever seen which is perfect for shooting sports scenes.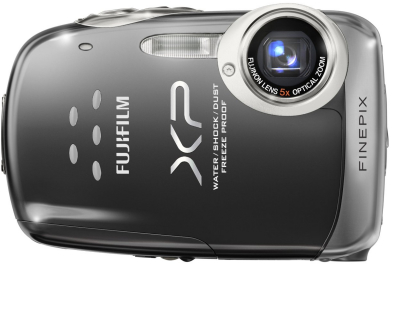 The shooting mode of XP10 is also very pleasing while it offers several modes. In fact, this is noted as one of the most configurable compact Waterproof Digital Camera. The automatic scene recognition mode is also very accurate making it very easy to shoot flawless pictures all the time.
All in all, the FinePix XP10 is another great camera from one of the leading brands in the camera market, Fujifilm. The camera offers so many shooting options and hardcore features landing it as one of the top shockproof and Waterproof Digital Camera for this year. Great buy at such a cheap price and no major issues at all. Verdict? Very nice camera!