For some time, people have found it interesting to have two devices in one. For this reason that camera manufacturers have always supplied their digital camera the capability to capture both still and motion pictures. But for some, it's not enough to capture best stills, it must also capture captivating motion pictures. But when people think about video capture, Canon seems to be the first choice. Well, its professional Cinema EOS cameras and the 5D Mark III are amazing for the purpose. Till, it somehow changed when Nikon's D750 was presented to the market.
This time, the crowd seemed to appreciate Nikon's capability. In an effort to attract buyers further, Nikon announced their new Filmmaker's Kit option for the D750. It is the same option released previously for the D810 camera but it is $1000 cheaper which is should entice more interest.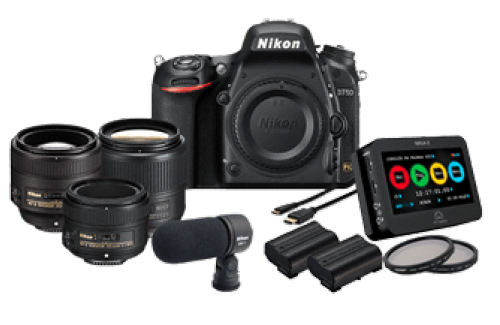 What comes with the kit? It's actually a decent package for a filmmaker who is starting from scratch. There's the D750 camera, three Nikkor G lenses, two Tifffen ND filters, Nikon's own ME-1 stereo microphone, an Atomos Ninja 2 recorder, a couple of spare batteries, and an HDMI cable. If you ever thought of buying those individually, it will cost around $4,600 – $4,800.  As a package the Filmmaker's Kit retails for $3,999. Now that's a clear savings.
Not to spoil the fun here but, really, the kit will be of great value if you're just starting with film making. For someone who already owns set of lenses, a great audio setup, or an external recorder, then this Filmmaker's Kit won't be a good investment.
Regardless, this still mean that the market for film making cameras has just gotten bigger and better. With the new offerings from various manufacturers, this should be enough to spice up the camera market even more.