The Panasonic LUMIX DMC-GM1 is tiny, measuring 58mm from its LCD screen to its lens cap, and it weighs 279g, which is a full 236g less than the DMC-GX7. Given the DMC-GM1's interchangeable lens mount, its petite design is a phenomenal achievement. Crucially, the DMC-GM1 is the first compact system camera (CSC) with a zoom lens that will fit in many trouser pockets. This extra portability is partly down to the new kit lens, which weighs 70g and extends just 24mm from the lens mount. The kit lens has a 2.7x maximum zoom and a 24-64mm (equivalent) range. It's good to have a 24mm wide-angle setting, as many kit lenses have a 28mm (equivalent) minimum focal length. Sadly, there's no focus ring, so you must adjust focus on the camera.
Body
The DMC-GM1's body couldn't conceivably be any smaller. The lens mount covers the entire height of the camera and the 3in touchscreen virtually fills the back, save for a smattering of
Buttons and a rear wheel. The small controls are a tad fiddly to use, but the elegant touchscreen interface makes controlling the DMC-GM1 a breeze. Pressing the Q. Menu button turns on screen icons into virtual buttons, so you can alter functions such as ISO speed, video frame rate and white balance onscreen. Our only grumble is that the Q. Menu button becomes an image delete button during playback. When we pressed it while the previous shot was still being displayed on the screen, it ordered to delete that shot rather than reveal the quick-access menu.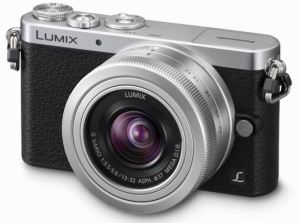 Amazingly, Panasonic has still found room for a pop-up flash and mode dial on top of the camera. There's even a switch for single autofocus, continuous autofocus and manual focus settings. We suspect most people would rather have a dial for drive mode or exposure compensation, but this is welcome nonetheless. The Panasonic Lumix DMC-GM1 has an impressive set of Wi-Fi features, with wireless transfers and comprehensive remote control via iOS and Android apps. Sadly, the DMC-GM1 doesn't have NFC for touch-and-go pairing, but it isn't much of a chore to connect to your mobile device by pressing buttons. The DMC-GM1 was quick to take photos, capturing its first shot within a second of being switched on. It focused in 200ms and captured a shot every half a second for JPEGs and Raw. The camera shot continuously at 4.8fps with fixed focus, and managed an impressive 4.2fps with continuous autofocus.
There are a few inevitable casualties for the sake of miniaturization. Battery life stands at 230 shots, the screen isn't articulated and there's no hotshoe, which means there's no option to add a flashgun or viewfinder. Although the kit lens fits perfectly, the DMC-GM1 is slightly shorter in height than many Micro Four Thirds lenses. The camera doesn't sit flat on a surface if you use a larger compatible lens, and it restricts access to the tripod thread.
Picture Quality
As for the DMC-GM1's image quality, colors were life-like, with expertly chosen automatic settings and impeccable autofocus performance. Details in JPEGs were crisp and smooth, and the lens performed superbly into the corners of frames. Processing raw shots in Lightroom 5 gave a boost to details and let us recover blown-out shadows and highlights. Noise at fast ISO speeds was marginally higher than from the best CSCs at this price, such as the Fujifilm X-M1. Still, with usable results up to ISO 6400, the GM1 delivered the goods for typical indoor shooting challenges. The main benefit of a CSC is to deliver SLR quality in a smaller package. To that end, the GM1 represents a major milestone with its petite dimensions. The fact that image quality, video quality and performance show no signs of compromise is even more impressive.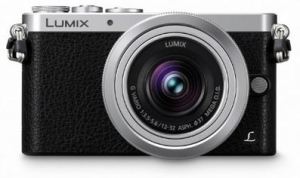 Competition
There are lots of great compact system cameras at this price, DMC-GM1's closest rival is probably the Sony Cyber-shot DSC-RX100 II. The DSC-RX100 II's sensor has only half the surface area, but its lens is four times brighter for wide-angle shots and remains over twice as bright when zoomed in. This means the DSC-RX100 II and DMC-GM1 are roughly equal for image quality. The DMC- GM1 is faster in normal use and its videos are sharper, but the DSC-RX100 II has longer battery life, an articulated screen and a hotshoe, and it's even slimmer. However, it's the DMC- GM1's interchangeable lenses that bring it out on top. The fact that other lenses are a bit big for the camera is a setback, but it doesn't dampen our enthusiasm for this tiny camera.

Verdict
All in all, Panasonic Lumix DMC-GM1 is probably the smallest compact system camera to date and by far the best in its category. Definitely a camera worth your money.
– Ben Pitt
Computer Shopper