At first glance, the Pentax Optio WG-1 looks more like mountaineering gear than what should be expected for a unit that has made a reputation for itself in several underwater digital camera reviews. But wait 'til you get hold of this 5.3 ounce curvy little thing.
You'll be surprised that it is more than meets the eye. The Pentax Optio WG-1 is the other popular unit from the brand's 12th generation series of adventure digicams (the other being a GPS-enabled WG-1). As a worthy descendant of Optio W90, the WG-1 appears to be tougher and more suitable for outdoor activities. It is a shockproof, dustproof, freeze-proof, crushproof and waterproof digital camera—a unique combination of qualities which make it a good choice for both amateur and professional sports photography.

Taking pictures from deep down in the sea is such a great experience with Optio WG-1. It allows underwater operation for up to 33 feet below the water surface. To enhance the image quality, the camera can be switched to Underwater or Digital Microscope mode. The latter makes use of 5 macro LEDs to provide the subjects with better lighting and focus. For a camera that is especially designed for outdoor use, the Optio WG-1 is virtually indestructible. This digicam is crushproof, allowing pressures of up to 220 pounds—nearly the weight of a well-nourished man. Also, with its rugged exterior, this Pentax digicam is shockproof and can resist breakage for drops of up to 5 feet. Hence, the only thing that should bother you is finding the best backdrop for your adventure photos.
As for the imaging features, Optio WG-1 seems to have a competitive advantage. Just because it is a sports-type camera doesn't mean that it's only good for the outdoors. In fact, it allows HD video capture in 720p at 30 frames per second – an amazing feature that is quite hard to find in most digicams that fall under the sports/adventure category. This is possible through the aid of its 14 MP sensor and 5x internal optical zoom. Additionally, through its HDMI connectivity, the videos from the camera can even be viewed on an HDTV. The Optio WG-1 has a wide 2.7" LCD monitor which is enhanced by the anti-glare coating. This way, shooting at the subjects under too much sunlight or other form of lighting is never an issue. Users can guarantee a better focus even when there is an excessive lighting.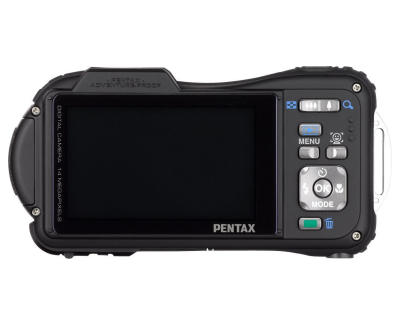 For human subjects, there are several features that can be used for the convenience of the photographer. A perfect example is the Smile Capture that automatically causes the shutter to snap away once the camera has detected the subject's smile. Another helpful tool is the Self-Portrait Assist mode. As the term suggests, it "assists" the photographer in capturing self-portraits which can be used as profile pictures in social networking sites.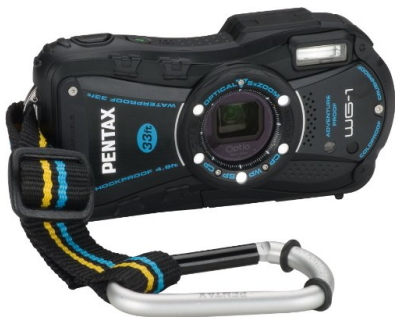 To complement the rugged exteriors, the Pentax Optio WG-1 also includes a carabiner strap for attaching the camera to knapsacks and other sports apparel. Since it is a rugged digital camera, it can withstand getting bumped while being suspended.