With rising demand for VR tech, companies try to entice the consumers even further by delivering additional gadgets to augment the VR realm. And just recently, Samsung divulged their plan to put on sale their version of 360-camera. Samsung's 360-degree camera, called the Gear 360, was originally presented several months ago. But it wasn't until recently that the company finally stated a release date for the US market, August 19 2016.
During the launch event for the Galaxy Note 7, Samsung also stated plans that to bring the tiny camera to the U.S. late this month. The device is expected have a price tag of $349. First look over the camera will remind you of an average webcam. Size-wise it's quite larger than a golf ball but definitely smaller than your baseball. Through its spherical built the device has a fisheye lens mounted on its two sides. Both cameras capture photos simultaneously.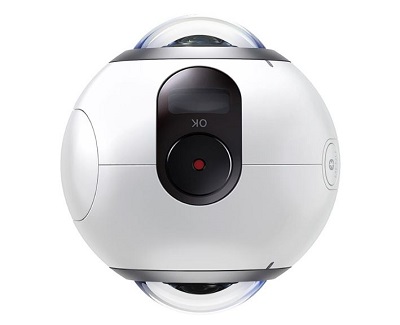 After images, or videos, are shot this is then can be stitched together over your PC or your Samsung phone, targeted to work with Galaxy Note 7 really. After that you can now share it over Facebook or Flickr. Of course, you can also view it through a VR headset such as the Gear VR.
The camera itself is capable of taking 30-megapixel photos. It's worth noting that you can use just one of the fisheye lenses if you wanted to have traditional still photo. For the video, the camera can shoot up to 3840×1920 resolution. Storage space is done through its 128GB memory card. That should be enough to hold hours of video recording.