We recently had the pleasure of testing the TRENDnet 4-Channel HD PoE NVR Kit for its own review, however, since we were planning a group on surveillance kits we thought it would be interesting to see how well it fared when stood side by side with the competition. The TRENDnet 4-Channel HD PoE NVR kit consists of a pair of TV-IP320PI 720p outdoor cameras, a TV-NVR104 network video recorder with a pre-installed 1TB hard drive, two thirty meter Ethernet cables, a 1.8m Ethernet patch lead, a 1.8m HDMI cable, an optical mouse, power adapter, a collection of installation guides and a CD with the user guide on it.
Starting with the network video recorder, theTV-NVR104's 1TB hard drive is capable of recording at least a couple months' worth of HD footage to it, or at least eight and a half days' continuous recording from four separate cameras. At the rear it has four Power over-Ethernet (PoE) ports, two of which will be used by the included cameras and two left spare for further upgrade to a four-camera setup. There's a 100Mb/s network port for connecting to a LAN, a pair of USB 2.0 ports, HDMI, VGA, and a pair of analogue audio ports.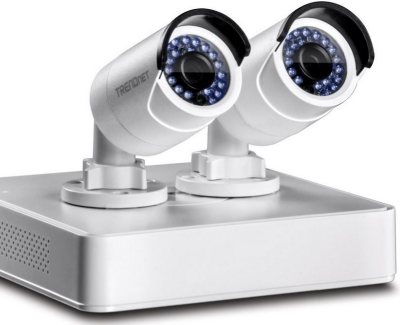 From here, once everything is connected, you'll be able to view the feed from the cameras in a split screen arrangement, or view any of the previous recordings located on the hard drive. In terms of the cameras, the lens of each has a focal length of 4mm with a progressive scan CMOS sensor. The horizontal viewing angle is 70°, vertical 52° and at the diagonal, 89°. Each camera has 720p HD recording capabilities, and a tough weather resistant housing rated to IP66. There's a 100Mb/s PoE port, which is one of the main draws of this setup over most conventional wired setups, and the kit comes complete with the necessary mounting kits.
The setup of the cameras and the network video recorder is fairly easy. As with the previous group entry, you'll need to plan your positioning accordingly and make sure that you don't over extend the Ethernet ports. With Ethernet you have a limit of around 100 meters, the latter BNC connection on the Swann setup can, in theory at least, extend to twice that before you lose the signal. Using Power over Ethernet is a great advantage with the TRENDnet kit, though. While it would be a more modern approach to use wi-fi, you'll get a faster communication between the cameras and the NVR via Ethernet.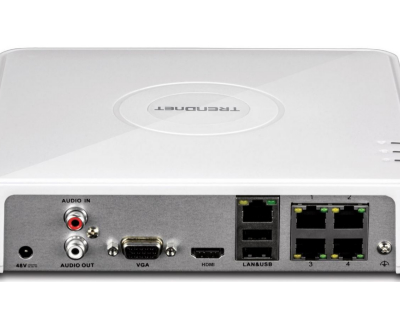 To sum it all up, this is a very good system. It's fast enough, delivers a clear image, and has enough features for both the home and business user. Sadly, though, it's also the most expensive kit we've tested so far. At around £350, you'll certainly need to be committed enough to buy and set this kit up. If you're committed to getting the best results, though, this is a surveillance kit worth seriously considering.